Tee Booking and Green Fees
Visitors will find a warm welcome, the finest practice facilities set high on the Cotswolds and three fabulous golf courses, all within easy reach of the motorway network, tourist attractions and stunning scenery.
Tee times on The Avening and The Cherington can be booked by calling the Tee Bookings Line on 01453 833840. Please note that Tee Time bookings can only be made two weeks in advance.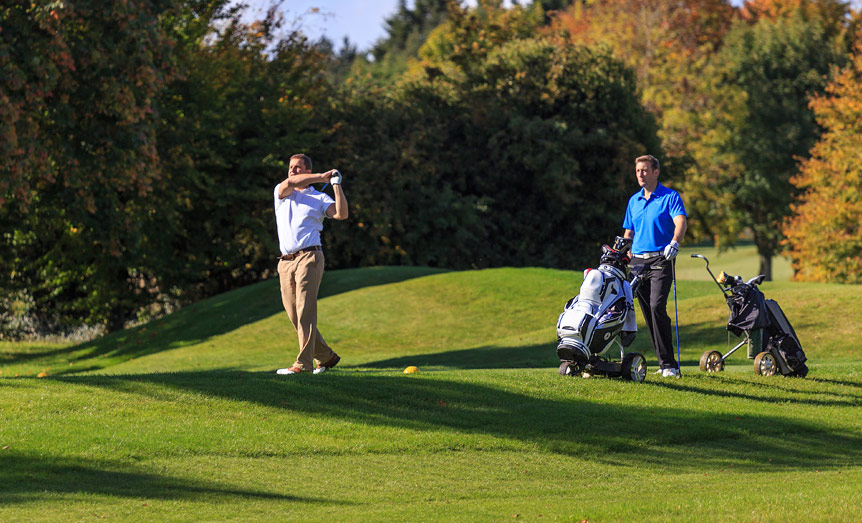 Green Fees 1st January 2020 - 29th February 2020
| | | |
| --- | --- | --- |
| | Weekday | Weekend & Bank Holiday |
| Adult Visitor Peak (08:00-11:00) | £45.00 | £55.00 |
| Adult Visitor Off-Peak (11:00-13:00) | £35.00 | £40.00 |
| Member Guest | £32.00 | £34.00 |
| Junior Visitor | £20.00 | £20.00 |
| Junior Member Guest | £17.00 | £17.00 |
| County Card (after 11:00) | £32.00 | £34.00 |
| Twilight Visitor (after 13:00) | £24.00 | £24.00 |
| Twilight Member Guest (after 13:00) | £20.00 | £20.00 |
| MGC Old Course Member | £20.00 | £20.00 |
Green Fees 1st March 2020 - 30th October 2020
| | | |
| --- | --- | --- |
| | Weekday | Weekend & Bank Holiday |
| Adult Visitor Peak (08:00-12:00) | £60.00 | £70.00 |
| Adult Visitor Off-Peak (12:00-16:00) | £45.00 | £50.00 |
| Member Guest | £32.00 | £34.00 |
| Junior Visitor | £20.00 | £20.00 |
| Junior Member Guest | £17.00 | £17.00 |
| County Card Peak (10:00-12:00) | £42.00 | £45.00 |
| County Card Off Peak (12:00-16:00) | £34.00 | £34.00 |
| Twilight Visitor (after 16:00) | £27.00 | £27.00 |
| Twilight Member Guest (after 16:00) | £20.00 | £20.00 |
| MGC Old Course Member | £22.00 | £22.00 |